Philipine cockfighting history
History of cockfighting
A cockfight is a blood sport between two roosters (cocks), or more accurately gamecocks, held in a ring called a cockpit. The first documented use of the word gamecock, denoting use of the cock as to a "game", a sport, pastime or entertainment, was recorded in 1646, after the term "cock of the game" used by George Wilson, in the earliest known book on the sport of cockfighting in The Commendation of Cocks and Cock Fighting in 1607. But it was during Magellan's voyage of discovery of the Philippines in 1521 when modern cockfighting was first witnessed and documented by Antonio Pigafetta, Magellan's chronicler, in the kingdom of Taytay. Cockfighting is a blood sport due in some part to the physical trauma the cocks inflict on each other, which is sometimes increased for entertainment purposes by attaching metal spurs to the cocks' natural spurs. While not all fights are to the death, the cocks may endure significant physical trauma. In some areas around the world, cockfighting is still practiced as a mainstream event; in some countries it is regulated by law, or forbidden outright. Advocates of the "age old sport" often list cultural and religious relevance as reasons for perpetuation of cockfighting as a sport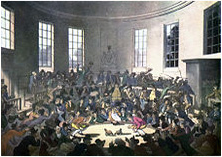 Cockfight in London c.1808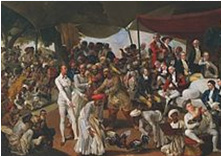 Cockfight in Lucknow 1784-1786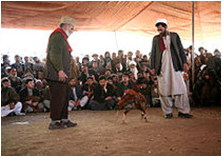 Cockfight on the outskirts of Kabul, Afghanistan
Cockfighting(Sabong) in Philippines
Cockfighting, locally termed Sabong, is a popular pastime in the Philippines where both illegal and legal cockfights occur. Legal cockfights are held in cockpits every week, whilst Illegal ones called tupada or tigbakay, are held in secluded cockpits where authorities cannot raid them. In both types, knives or gaffs are used. There are two kinds of knives used in Philippine cockfighting. The single edge blade (use in derbies) and double edged blades, lengths of knives also vary. All knives are attached on the left leg of the bird, but depending on agreement between owners, blades can be attached on the right or even on both legs. Sabong and illegal tupada, are judged by a referee called sentensyador or koyme, whose verdict is final and not subject to any appeal. Bets are usually taken by the kristo, so named because of his outstretched hands when calling out wagers from the audience and skillfully doing so purely from memory.
Cockfighting was already flourishing in pre-colonial Philippines, as recorded by Antonio Pigafetta, the Italian diarist aboard Ferdinand Magellan's 1521 expedition. Cockfighting in the Philippines is derived from the fact that it shares elements of Indian and other Southeast Asian cultures, where the jungle fowl (bankivoid) and Oriental type of chicken are endemic.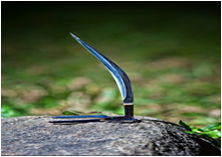 Sabong "Tari" (gaffs) Knife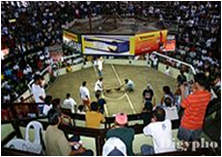 Cockfight in Davao City.
World Gamefowl Expo 2014, WTC Metro Manila